Media Contact:

Jennifer Sherlock, Jenna Communications
(609) 369-3482

E-mail: jsherlock@jennacommunications.com
SANTA DELIVERS HOLIDAY MAGIC TO LUCKY MORRISVILLE FAMILY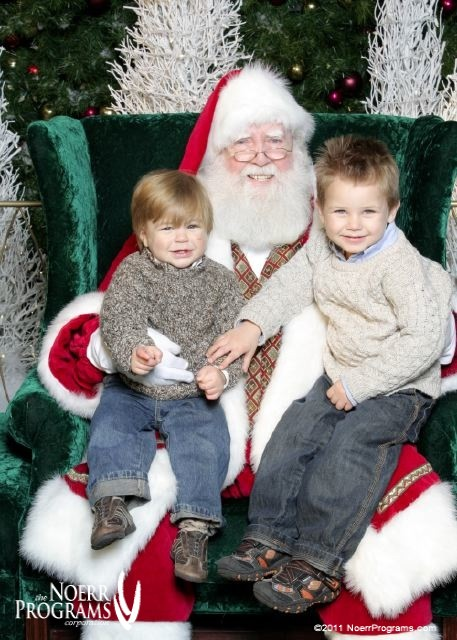 Santa, who has been holding court at Oxford Valley Mall for the past 5 years, was captured in the Cutest Santa Photo with Potter and Beau.
Santa makes special delivery to Rudl family, bearing nearly $2,000 in gifts, courtesy of Gymboree and Simon Malls
Morrisville, Pa., DEC. 21, 2011 — Santa Claus will make a special stop at the Rudl residence in Morrisville, PA this Thursday at eight a.m. before leading his reindeer across the world to deliver toys to boys & girls on Christmas Eve.
Children's clothier Gymboree and Simon Property Group (NYSE: SPG) have arranged for Santa to surprise Potter and Beau Rudl of Morrisville, PA, winner of Simon's Cutest Santa Photo Sweepstakes, and their family with a sleigh full of gifts valued at nearly $2,000.
The Rudl family will meet Santa at their home for the special gifts and a sleigh ride before celebrating the holidays with their family.
Alison, the mother of the two boys, works as a pre-school teacher and her husband Karl works as a member service representative for a social networking company. Potter and Beau sat on Santa's lap earlier this holiday season at The Oxford Valley Mall. The photo was selected as the winning photo among thousands of entries in the nationwide sweepstakes, in hopes of surprising – and spoiling – her three-year-old son , Potter and her 15 month old son, Beau.
Surrounded by family, Potter and Beau will receive $250 worth of toys, including an XBox 360 Kinect, Spiderman and Elmo toys, and a Superheroes computer so he can work on-line just like his father. The family will also receive $1,200 in Gymboree clothing, a $300 Simon Giftcard and a lifetime full of memories. Alison said, "this surprise could not have come at a better time as this has been a difficult year for our family and this is just what we needed to start over. This will be one of the best Christmas celebrations yet!"
"The Cutest Santa Photo Sweepstakes is delighted to provide this little bit of extra Christmas cheer to Alison, Karl, Potter and Beau this holiday season" said Jim Malervy, director of mall marketing for The Oxford Valley Mall. "The holidays are a special time for families to get together, and Simon's Oxford Valley Mall and Gymboree are happy to help make this Christmas a memorable, once-in-a-lifetime experience for this lucky family."
After presenting Potter and Beau with their gifts, Santa X– now in his 53rd year as one of Santa's senior helpers will ride off in his horse-drawn sleigh to prepare for his busiest night of the year before heading to the North Pole, where a warm bed and plate full of cookies will await him, along with some much-needed R&R.
# # #