Read below for can't miss events and news!
July 2012
Help us get to 1,000 followers on Twitter and 2,000 likes on Facebook! We will reward the 1,000th Tweep and 2,000th Facebook like with a free, 30-minute PR consultation.
Thanks for helping us grow!
Jenna Communications Reached 1000 Facebook Likes: Thanks to our 1000th like, Chad Puchalski, and everyone else who has liked us on Facebook!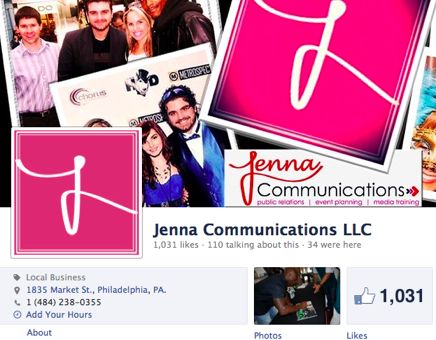 Upcoming Events:
Delaware Stroke Council's Stars for Stroke: The Delaware Valley Stroke Council is celebrating its 17th Anniversary at the Annual Stars for Stroke Gala on Saturday, November 17, 2012. Ticket price will be $300.00 per person and it will be held at Hyatt at the Bellevue on 200 South Broad Street Philadelphia, PA. If you are interested in making a donation or being a sponsor for the event, contact Jen.
The Lorax is Coming! Kidgits Event: The Lehigh Valley Mall and Oxford Valley Mall are celebrating the release of The Lorax on August 2nd from 11am to 1pm. Kids will engage in activities including a "Pitch-In" recycling game, create your own Lorax mustache and activity sheet station, plant a "Seed of Hope", make your own Truffula Tree, as well as giveaways and a Lorax screening area. The Lehigh Valley Mall will also have a Lorax costume character meet n' greet and photo opp.
Lehigh Valley Non-Profit Awareness Expo 2012: The Lehigh Valley Mall is offering an exciting opportunity for Lehigh Valley non-profit organizations to connect with businesses, volunteers, potential sponsors, and donors in the area. The Expo will be Thursday, September 20th from Noon until 8pm. The event will be a great place for non-profits to connect with the public and celebrate their contributions to the community. Aside from networking there will be entertainment, music, raffles, and a program to kick off the Expo featuring Whitehall Mayor Edward Hozza Jr. The Lehigh Valley Mall is still looking for people interested in being a sponsor or vendor for the event. If int erested or to receive for more information please contact Amanda Johnson, Director of Mall Marketing, at AmJohnson@simon.com.
22nd Annual "Stu Bykofsky Candidates Comedy Night": Come celebrate the 22nd Annual Stu Bykofsky Candidates Comedy Night on the third floor of Finnigan's Wake on Wednesday, August 22 at 8:00 p.m. Raise funds for the Delaware Valley Chapter of Variety, a Children's Charity that serves children with disabilities, while enjoying jokes and other funny performances by Senators Bob Casey and Tom Smith, Attorney General Candidates David Freed and Kathleen Kane, and ten other Congressmen from Pennsylvania.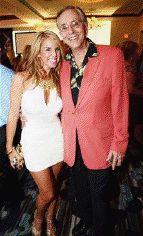 Jennifer Sherlock and Stu Bykofsky at the Philadelphia Style party.
The Sports Cave: Be sure to look out for when The Sports Cave releases the date and time for their Eagles' pre-season celebration on jennacommunications.com! You will not want to miss out on this VIP penthouse party in Center City.
Event Re-Cap:
Trent Cole Signing: Philadelphia Eagles defensive-ender Trent Cole visited The Sports Cave's new location in the Rotunda at the Shops at Liberty Place on July 5th to sign autographs and take pictures with excited fans.

Quaker Bridge Mall Super Duper Mini Chef's Kidgits Event: Quaker Bridge Mall hosted Super Duper Mini Chef's on July 14th. Young cooks engaged in hands on culinary creativity with activities like pasta crafts and decorate your own chef hat or apron. Chef Carl Giardina, known locally for his "Make A Pizza Parties", showed children how to make their own 10-inch pizza. The event was sponsored by Nickelodeon's iCarly Groovy Foodie Nintendo DS game, so everyone was able to test the new game and receive an exclusive GameStop coupon for their next purchase. Non-perishable food items were collected and donated to Mercer Street Friends.

Recording Academy Philadelphia Chapter Presents Independents' Day: On July 14th at the Drexel Universtiy Nesbitt Hall, the Independents' Day program was an annual one-day conference focusing on entrepreneurship for the music maker.  The event brought together the best minds from the music industry with those in the business and social media worlds.  The day consisted of high impact TED-style presentations, panel discussions, a networking reception, and a multi-act live music celebration at World Café Live.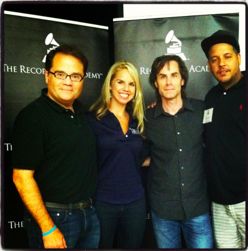 Current Client Update:
Quaker Bridge Mall Awards Local Girl with Scholarship: The Simon Youth Foundation awarded its Community Scholarship, valued at $1,400, to Megan Landstrom of Spotswood, New Jersey. The Simon Youth Scholarship Program aims to provide hardworking students with money to pursue their dreams to attend college or another post-secondary institution.
Lehigh Valley Mall Announces New Visitor's Center: The Lehigh Valley Mall awaits the opening of the Whitehall Area Chamber of Commerce's new Chamber Office and Visitor's Center this summer. The center will provide information, both current and historical, on Whitehall and its surrounding areas. It will also serve as a hub for the Chamber's numerous community and business functions as well as a facility to promote and support the growth and economic vitality of the greater Whitehall area.
The Sports Cave: Our sportiest client, The Sports Cave, is accepting sponsorships for their professional athlete signings at the Shops at Liberty Place. Their signing series features popular local athletes like the Sixers' Lou Williams, Phillies closing pitcher Brad Lidge, Flyers Right Winger Max Talbot, and Eagles defensive end Trent Cole. Don't miss this awesome opportunity to feature your business in conjunction with Philadelphia sports celebrities that draw crowds of fans and press. Read over the sponsorship information and contact Jen to sign up. The Sports Cave will aslo be hosting an Eagles pre-season bash that will be announced soon at a VIP Penthouse in Center City. Keep checking Jenna Communications website for the date & time!
Quaker Bridge Mall: Quaker Bridge Mall is looking forward to new and exciting changes as it awaits the opening of 25 new stores by November 2012. Among the new retailers are Michael Kors, Pandora, Sephora, Sur La Table, Teavana, H & M, Ann Taylor, and Brighton Collectibles. The Cheesecake Factory restaurant is currently under construction and scheduled to open this fall. Quaker Bridge welcomes the new changes as it looks forward to becoming a shopping hot-spot for Central New Jersey. Check out some press on the new store openings in the Trenton Times and the Trentonian!
Check out Jenna Communications' PR Tip of the Week
Follow us on Twitter: @JennaComm, @JennyBentley
"Like" us on Facebook