Read below for can't miss events and news!
June 2012
Help us get to 1,000 likes on Facebook and 1,000 followers on Twitter! We will reward the 1,000th person from each site with a free, 30-minute PR consultation.
Thanks for helping us grow!
Upcoming Events:

Trent Cole Signing: Philadelphia Eagles defensive-ender Trent Cole will be appearing at The Sports Cave, Thursday, July 5, 2012 from 1:00p.m. to 2:00p.m. SHARP. We are expecting a large turnout for this do-not-miss-event. The signing will be located at The Sports Cave's NEW location in the Rotunda at The Shops at Liberty Place. We will keep you updated on the details! Tickets are available by calling The Sports Cave today at 215-454-2711. They'll also be available online on Monday July 2nd at http://www.phillymancave.com/. Check out the Sports Cave website to see the wide array of sports memorabilia available.
Quaker Bridge Mall Kidgits Events: Quaker Bridge Mall is hosting two upcoming events! This Saturday, June 30th at 11:00am Quaker Bridge Mall is hosting a Safe Fit Summer Event with Miss Amy Rock & Roll Fitness. The event will kick start with a demonstration from Schaefer Gymnastics School, followed by an interactive performance from Grammy-Nominated Rock n' Roll Fitness Guru, Miss Amy. Whole Foods will be on site sampling healthy fruits alongside the local Girl Scouts, who will be promoting healthy eating and portion control. Finally, local arts school Destiny Arts will be performing a Story Tellers Class.
Quaker Bridge Mall will also be hosting Super Duper Mini Chef's this July! On July 14th at 2:00 pm, aspiring young cooks will engage themselves in culinary creativity through a combination of demonstrations and interactive activities such as pasta crafts and decorate your own chef hat or apron. Also, for the first 50 Kidgits members who RSVP, Chef Carl Giardina who is known locally for his "Make A Pizza Parties", will show children how to make their own 10-inch pizza. Attendants will eat pizza from a local vendor, enjoy magic tricks, and receive a recipe for Spaghetti Tacos along with a diploma from Chef Carl University. The event is sponsored by Nickelodeon's iCarly Groovy Foodie Nintendo DS game, so everyone is invited to test the new game and receive an exclusive GameStop coupon for their next purchase. All attendants are encouraged to lend a hand to those in need by bringing a non-perishable food item to the Quaker Bridge Mall to be donated to Mercer Street Friends.
Lehigh Valley Non-Profit Awareness Expo 2012: The Lehigh Valley Mall is offering an exciting opportunity for Lehigh Valley non-profit organizations to connect with businesses, volunteers, potential sponsors, and donors in the area. The Expo will be Thursday, September 20th from Noon until 8pm. The event will be a great place for non-profits to connect with the public and celebrate their contributions to the community. Aside from networking there will be entertainment, music, raffles, and a program to kick off the Expo featuring Whitehall Mayor Edward Hozza Jr. The Lehigh Valley Mall is still looking for people interested in being a sponsor or vendor for the event. If interested or to receive for more information please contact Amanda Johnson, Director of Mall Marketing, at AmJohnson@simon.com.
Event Re-cap: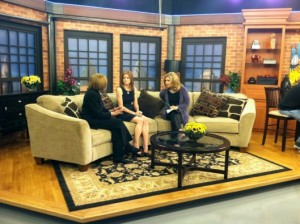 Talk Philly Strides for Stroke Interview: On June 13th Toby Mazer, the founder of Delaware Valley Stroke Council, and stroke survivor Lisa O' Rear were interviewed by CBS3 Talk Philly. They each shared their personal encounters with Stroke to promote the Strides for Stroke 5k. Watch the video here.
Strides for Stroke 5K: With the help of Jenna Communications, The Delaware Valley Stroke Council hosted the 18th Annual Dr. Howard Mazer Memorial Strides for Stroke 5k on June 10th. The event was held to raise money for stroke survivors and caregivers as well as region-wide stroke prevention educational events and screenings. This scenic run/walk took place along the Martin Luther King Highway in Philadelphia against the beautiful backdrop of the Philadelphia Art Museum. The Delaware Valley Stroke Council partnered with local businesses and corporate partners in order to provide refreshments and information in community-sponsored vendor alley. Participants and volunteers enjoyed numerous race-day freebies, including Powerade ZERO, pretzels from Philly Soft Pretzel Factory and fresh fruit throughout the day. There was even a special appearance from Spider Man, who helped to warm up the eager crowd of participants! First place winner Michael Daigeaun won an autographed John Mayberry Jr. Phillies jersey. Check out the list of all the race winners! Participants and volunteers enjoyed an after party at center city dining destination El Vez. The Strides for Stroke 5k was a huge success this year as it raised over $63,000!

Super Duper Mini Chefs at Oxford Valley Mall: Oxford Valley Mall hosted Super Duper Mini Chefs on June 16th. Kids participated in demonstrations and activities that included Pretzel Rolling with Auntie Anne's, Pizza Fun with Sbarro, Fun Time with McDonalds, coloring chef hats and more! Attendants played Nickelodeon's new iCarly: Groovy Foodie! game and received an exclusive GameStop coupon. Non-perishable food items were collected and donated to the Red Cross.
Disney Junior Celebrates Summer: This past month both the Oxford Valley Mall and the Lehigh Valley Mall hosted joined Simon Malls across the country in hosting a "Jake and the Never Land Pirates: Summer Adventures" event with Radio Disney. Kids and families partook in pirate adventures as they completed themed activities to collect gold doubloons, the series' signature treasure. After receiving bandanas and treasure maps, kids participated in various interactive activities where they created treasure chests, decorated 'Pirate Pal' coloring sheets, took a 'Never Land' photo, and searched for Captain Hook decals throughout the mall in a 'Look for Hook' game. The Radio Disney Road Crew provided entertainment and encouraged kids to dance and sing to popular Radio Disney Junior songs from their favorite series. There was even a special viewing area where families could watch episodes of "Jake and Never Land Pirates" as well as "Doc McStuffins."
Current Client Update:
Lehigh Valley Mall Announces New Visitor's Center: The Lehigh Valley Mall awaits the opening of the Whitehall Area Chamber of Commerce's new Chamber Office and Visitor's Center this summer. The center will provide information, both current and historical, on Whitehall and its surrounding areas. It will also serve as a hub for the Chamber's numerous community and business functions as well as a facility to promote and support the growth and economic vitality of the greater Whitehall area.
The Sports Cave: Our sportiest client, The Sports Cave, is accepting sponsorships for their professional athlete signings at the Shops at Liberty Place. Their signing series features popular local athletes like the Sixers' Lou Williams, Phillies closing pitcher Brad Lidge, and Flyers Right Winger Max Talbot. Don't miss this awesome opportunity to feature your business in conjunction with Philadelphia sports celebrities that draw crowds of fans and press. Read over the sponsorship information and contact Jen to sign up.
Quaker Bridge Mall: Quaker Bridge Mall is looking forward to new and exciting changes as it awaits the opening of 25 new stores by November 2012. Among the new retailers are Michael Kors, Pandora, Sephora, Sur La Table, and Teavana. The Cheesecake Factory restaurant is currently under construction and scheduled to open this fall. Quaker Bridge welcomes the new changes as it looks forward to becoming a shopping hot-spot for Central New Jersey. Check out some press on the new store openings in The Times of Trenton and the Trentonian!
Check out Jenna Communications' PR Tip of the Week
Follow us on Twitter: @JennaComm, @JennyBentley, @SaraIShuman
"Like" us on Facebook
Contact information: Jennifer Sherlock, Jenna Communications, 1835 Market Street, Suite 1000, Philadelphia, PA 19103