Read below for can't miss events and news!
MAY 2011
NEW! If you refer a client to Jenna Communications, you will receive a free one-hour PR consultation. Contact Jen at jsherlock@jennacommunications.com for details.
Upcoming Events:
Shopping for a Sweetie at Oxford Valley Mall
Jenna Communications will be partnering up with the Oxford Valley Mall to present a fun dating event on Thursday, July 21 from 6-9pm.  Fox29's Jennaphr Frederick will be the emcee at the event where local singles will be auctioned off to shop with the highest bidder.  A portion of the proceeds will benefit a local charity.
We are currently seeking sponsors and media partners for the event.  Interested persons may contact Jen Sherlock.
Event Recap: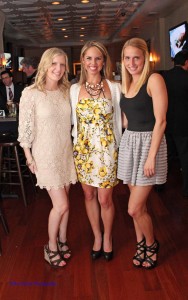 The Jenna Communications team: PR Manager Katie Spilman, President Jennifer Sherlock and Junior Associate Lauren Faykes at *smiths for the Media Appreciation Happy Hour. Photo courtesy of Mike Hirata Photography.
A huge thank you is in order for all who came out to the Media Appreciation Happy Hour at *smiths restaurant last Thursday.  Jenna Communications had a great time getting to spend some time with all the media professionals and friends who were able to attend.  Thanks again for making our job easy and always entertaining.  Photos, courtesy of Mike Hirata, are posted on the Jenna Communications Web site.
New Clients:
Jenna Communications is proud to announce Plymouth Hypnosis Center as a new client!  Located outside of Philadelphia in Lafayette Hill, Plymouth Hypnosis Center seeks to help individuals to lose weight, quit smoking, reduce stress, lessen anxiety of fears or phobias and even improve your sports performance.  Check out a clip of Plymouth Hypnosis Center's owner and Certified Clinical Hypnotist, Bryan Toder on FOX29's Good Day Philadelphia.
Current Client Update:
Right Recruiting, LLC
Right Recruiting's principal, Jeff Zinser, speaks on FOX29's 10PM news about the most recent unemployment numbers and how this is a crucial point for the economy and the employment outlook.
Interested in becoming part of career-related discussions? Check out Right Recruiting's groups on LinkedIn and see which best fits you- Right Recruiting Executive/Management Roundtable or Right Recruiting Young Professionals Roundtable. Stay up to date on current job listings that RR is recruiting for, on Twitter @RightRecruiting, on Facebook as Right Recruiting and on LinkedIn at Jeff Zinser. Please "like" Right Recruiting on Facebook at Right Recruiting, LLC to stay informed on all job postings.
Oxford Valley Mall
Action News arrived at the Oxford Valley Mall for the Sports and Entertainment Expo, presented by POPPEL.com.  The event featured former Flyers and MLB players, including Flyers all-stars Tim Kerr and Brian Propp, who signed autographs at the event.  More than 20 dealer tables were full with sports memorabilia for attendees to browse.  Watch the full clip here.
Follow us on Twitter: @JennaComm, @JennyBentley, @Jaclyn_Stratten, @KLSpilman
Check out Jenna Communications' PR Tip of the Week: Why Use External Public Relations Instead of Internal?