Read below for can't miss events and news!
April 2012
Help us get to 1,000 likes on Facebook and 1,000 followers on Twitter! We will reward the 1,000th person from each site with a free, 30-minute PR consultation.
Thanks for helping us grow!
New Additions
Suede Salon & Spa: Jenna Communications is excited to announce Suede Salon & Spa as our newest client. Located in Marlton, NJ, Suede Salon and Spa offers clients the most cutting edge hair design and color, as well as expert facial and body spa services. Suede has been identified as a leader in customer satisfaction for the beauty industry, and is certainly the number one beauty destination in South Jersey. Suede reminds everyone that May is Melanoma Awareness Month. Check back with us for details on our May event with skin care specials and skin spa offers. We look forward to working with the talented and creative women at Suede.
Upcoming Events
Mom's Nite Out at Simon Malls: Simon is celebrating National Mom's Night Out at Lehigh Valley Mall, Quaker Bridge Mall, Oxford Valley Mall, and Montgomery Mall on Thursday, May 10 from 5pm-8pm. Simon malls will open their doors for thousands of moms for a Nite of shopping, pampering, socializing, fun, and helpful interactive demonstrations and displays. Simon has teamed up with several prestigious brands and organizations including Diet Coke, Dove Body Wash, Little Black Dress Vodka, StriVectin, and VISIT FLORIDA to celebrate Moms and their many contributions to the world. These events are helping raise awareness for Dress for Success, an international not-for-profit organization offering services designed to help underprivileged women find jobs and remain employed.
County Fair at Oxford Valley Mall: The seventh annual Bucks County Fair will be at Oxford Valley Mall from April 26 to May 6. There will be amusement rides, games, food, attractions, music, and much more! The Fair opens at 5pm, Monday through Friday, and at 12 noon on Saturdays and Sundays. Proceeds to benefit the Middletown Community Foundation, a non-profit organization created to improve the quality of life for individuals who live and work in Middletown Township, Bucks County, Pennsylvania. Oxford Valley Mall will also host a free Zumba class on Thursday, May 3 from 6:45-7:45pm in honor of National Fitness Month. The event is highlighted on MSNBC.
Stroke Alert Day: The Delaware Valley Stroke Council marks their 5th annual Stroke Alert Day on May 1, 2012. With the help of healthcare providers and volunteers, the Delaware Valley Stroke Council will help educate the community about the potential warning signs of strokes and offer free blood pressure screenings. On Stroke Alert Day, medical professionals and volunteers will be stationed in various Delaware Valley hospitals, drug stores, supermarkets and malls from 10:00am to 2:00pm to provide visitors with free blood pressure screenings.
Stress Awareness Month: April is Stress Awareness Month! Bryan Toder, certified clinical hypnotist and owner of the Plymouth Hypnosis Center, will be actively participating in National Stress Awareness Month by helping clients manage stress through hypnosis techniques.
Suede Salon & Spa: Suede Salon & Spa is doing the hair and makeup for the Anthropologie Fashion Show from 6-9 PM on May 4, 2012 at the Promenade at Sagemore in Marlton, NJ.
Event Re-Cap
Easter Events at Simon Malls: Last month the Easter Bunny took up residency at Lehigh Valley Mall, Oxford Valley Mall, Montgomery Mall, and Quaker Bridge Mall. The Easter Bunny arrived on March 17 and stayed through April 7 to spread Easter magic and take photos. The malls also celebrated the release of the animated feature HOP on Friday, March 23. The Caring Bunny also made an appearance during the Easter festivities at The Lehigh Valley Mall and the Oxford Valley Mall Sunday April 1. Children with special needs and their families came for a special private photo session with the Caring Bunny in an environment designed to support the sensory, physical and other developmental needs of kids with all abilities.
Max Talbot Signing: Philadelphia Flyers right-winger Max Talbot appeared at The Sports Cave on Tuesday, March 27. Over a hundred fans came out to see Max and his winning smile.

Montgomery Mall WMGK Classic Rock Art Show & Sale: The 12th Annual WMGK Classic Rock Art Show and Sale was on display at the Montgomery Mall at the end of March. The collection included pieces by Paul McCartney, John Lennon, Bob Dylan, Jimi Hendrix, and many more rock icons. A portion of the proceeds benefitted the Little Steven Van Zandt's Rock N' Roll Forever Foundation.
Plymouth Hypnosis Center 10th Anniversary: Bryan Toder celebrated the 10th anniversary of the Plymouth Hypnosis Center on Thursday, April 19 at the beautiful Talamore Country Club in Ambler, PA. Guests included family, friends, and patients who all gathered to congratulate Bryan Toder on his success.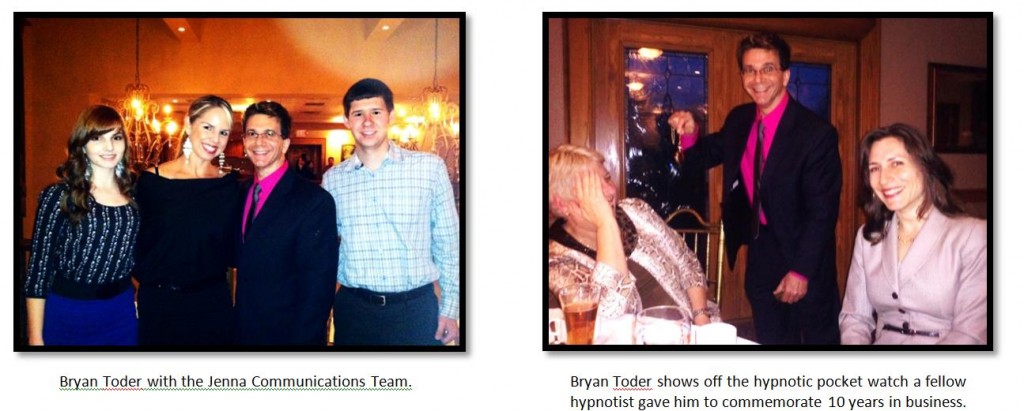 Earth Day at Montgomery Mall: The Montgomery Mall celebrated Earth Day on April 21. Events throughout the day included demonstrations on composting, planting raised bed gardens, using rain barrels, installing solar panels, storm water management, and conserving energy, as well as children's crafts, a display of energy-efficient cars, and guest speakers. Speakers discussed global warming, environmental action in Pennsylvania, and energy management. The day also featured free residential paper shredding and free electronic and equipment recycling. Read more about the Earth Day event in the Lansdale Patch.
Current Client Update
Lehigh Valley Mall: Lehigh Valley Mall welcomes exciting new additions to their lineup of stores and eateries. The mall recently welcomed Cardinal Camera and Smart Toys, which are now open. Papyrus, coming to the former China One location, is the perfect place to find arts and crafts and all the supplies needed to make custom greeting cards and other stationary. Other changes include relocations for Spencer's Gifts and FYE. Taking FYE's former place will be Cotton On, which carries modern fashion, shoes, and accessories for men, women, and children. Look for Cotton On in the Fall of 2012.
There are also some tasty additions to Lehigh Valley Mall's list of eateries! The region's first Chipotle Mexican Grill will be opening in June next to Sephora in the mall's Outdoor Shops, where shoppers can fuel up on gourmet burritos and tacos. Asian Dynasty, opening next to Pita-Pit in late summer, is a new restaurant with a menu that includes a variety of Chinese, Hibachi, and Sushi-style dishes. Finally, just in time for the summer months, Razzleberry Frozen Yogurt will be opening next to Men's Wearhouse & Tux to serve shoppers their favorite soft-serve frozen desserts and beverages.
Delaware Valley Stroke Council: With the help of Jenna Communications, The Delaware Valley Stroke Council (DVSC) is planning their annual Strides For Stroke 5K. The The 18th Annual Dr. Howard Mazer Memorial Strides for Stroke event raises money for stroke survivors and caregivers as well as region-wide stroke prevention educational events and screenings. This scenic run/walk takes place along the Martin Luther King Highway in Philadelphia against the beautiful backdrop of the Philadelphia Art Museum. Participants enjoy food and entertainment with old friends and new while fighting against the threat of stroke. Sign up for $25 at before June 9th and $30 on race day or join our volunteer committee!
Propper Hockey: As the Flyers head to playoffs, Jen and the Propper Hockey team keep the Flyers spirit going. The show will continue as long as the Flyers stay in the running for the Stanley Cup.The show can be seen LIVE at Adelphia Restaurant in Deptford, NJ every Tuesday night at 6:00pm and on the air Wednesdays at 9:00pm on WMCN44. Listen to the Propper Hockey show livestream.
Quaker Bridge Mall: Exciting changes are coming to the Quaker Bridge Mall. The mall is currently undergoing a major redevelopment. The plan includes a decorative renovation along with a completely revamped tenant mix that will significantly upgrade merchandise selection in the categories of apparel, accessories, and home furnishings.
Goodbye Mike Young!
Jenna Communications congratulates intern Mike Young on his new job at Buffalo Communications. Mike has been an integral part of the Jenna Communications team since September 2011. We are sad to see him leave but wish him well in all his future endeavors.

Check out Jenna Communications' PR Tip of the Week
Follow us on Twitter: @JennaComm, @JennyBentley, @SaraIShuman
"Like" us on Facebook