Read Below for Can't Miss Events and News!
April 2013
Help us reach 2,000 "Likes" on our Facebook page and 1,000 followers on Twitter!

Thanks for helping us grow!
New Client Announcements
April was a milestone month for Jenna Communications! We're proud to announce that we brought three exciting, new client partners on board.
Goldtex, Philadelphia's newest luxury apartment building from Post Brothers Apartments, located at 315 N 12th Street in Center City, has paired with us for help planning their grand opening. But, the fun doesn't stop there, as Goldtex has a full schedule of events planned over the next several months. If you're searching for that dream residence in center city, look no further! Goldtex offers a full array of class-leading amenities, and boasts a LEED silver certification as a green building. Stay tuned for more updates on all events by liking Goldtex on Facebook, and don't forget to visit their website to learn more about all the property's features.
Photo Credit: photographerkatedevlin@gmail.com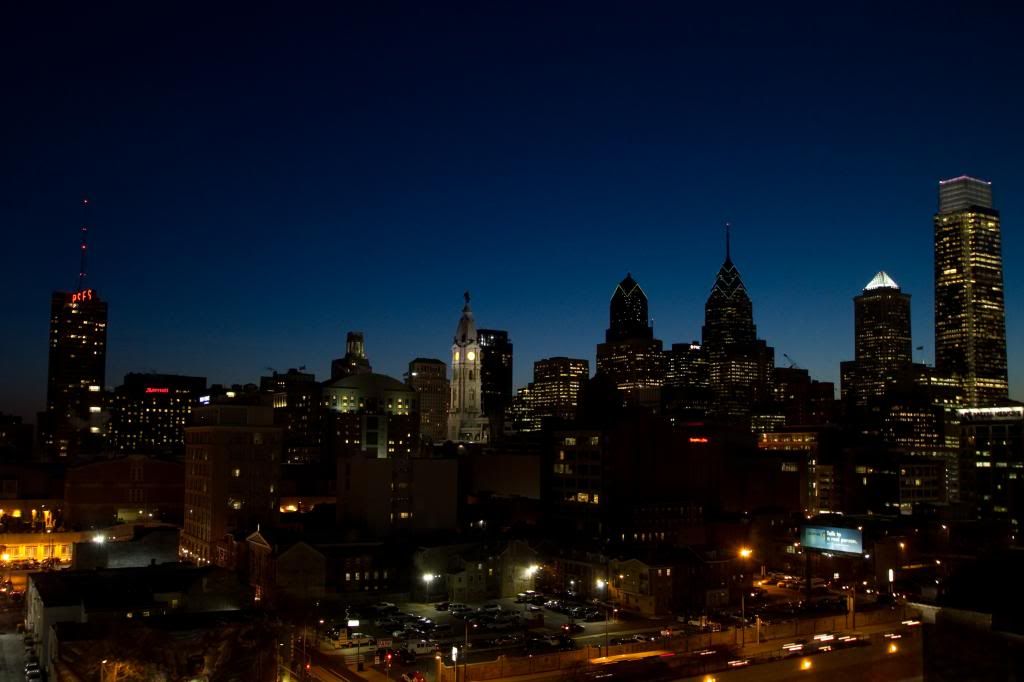 Treat yourself to one of the most breathtaking views of center city in your new home at Goldtex
Our next new client partner, BC Processing, provides a range of business services to a number of organizations in South Jersey and beyond. Whether you need electronic credit card processing, managed IT, point-of-sale systems, computer repairs or mobile app development, BC Processing has you covered. Our team will manage and grow BC Processing's social media, develop corporate videos and marketing strategies, and plan its annual technology expo. To learn more about BC Processing, visit its website and don't forget to connect with the company on Facebook and Twitter. Stay tuned for some very exciting announcements from BC Processing in the coming weeks!
Hollywood comes to BC Processing as Jennifer Sherlock interviews clients for testimonials.
Our third new client partner, Judge VIP (Veterans in Professional) Careers, is The Judge Group's newest division. VIP Careers focuses its efforts on helping returning veterans ages 24-30 who face elevated unemployment rates. Through its "Boots to Boardroom" program, VIP Careers provides a career lifeline to members of our Armed Forces so they can begin rewarding civilian professions. Jenna Communications will help VIP Careers with its official launch at Military Appreciation Night on Saturday, June 22 at the Philadelphia Soul game. The night will feature a "career speed recruiting" or "Vet-working" event for military members as well as the first-ever Army-Navy Veterans Arena Football Game. If your company would like to register to attend the "Vet-working" event, click HERE for more details. Tryouts for the Army-Navy Veterans Arena Football Game are scheduled for Saturday, May 4 from 11 a.m. to 3 p.m. at the Pinelands Sports Complex in Southampton, NJ. If you are a veteran interested in trying out, contact Joe Krause at jkrause@philadelphiasoul.com.
Upcoming Events:
For the second year in a row, Jenna Communications is planning the Delaware Valley Stroke Council's Strides for Stroke 5K Run/Walk on Sunday, June 9, and there are plenty of opportunities for you to help! Volunteers are needed to help with event logistics, fundraising, donation requests, registration and refreshments. Also, we need local businesses to serve as sponsors, donate fruit to serve runners, and encourage employees to set up running teams! To sign up and for more information, please call (215) 772-9040 or email info@phillystroke.org. Race day registration begins at 7 a.m. Click HERE to register for the event and visit the Delaware Valley Stroke Council's website to learn more about the organization. Remember, stroke is the number one cause of adult disabilities. By participating in Strides for Stroke, you are helping to guarantee the continued success of programs that educate community members about stroke and work with hospitals to provide cutting-edge care for stroke victims.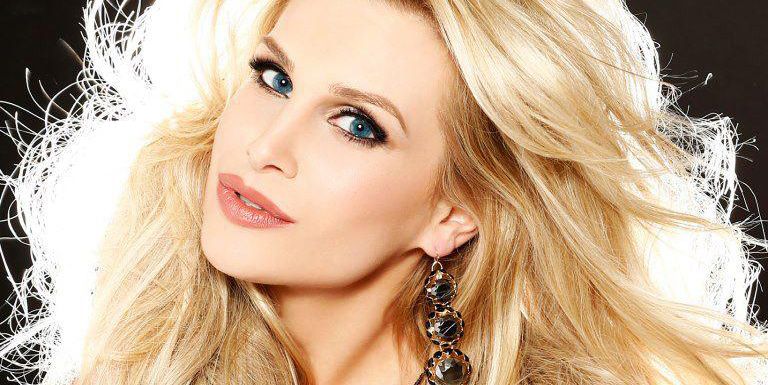 Jessica Billings, Miss Pennsylvania USA, has three exciting upcoming events.
On Friday, April 26, artist Shelly Hamill will unveil a tile mosaic she created of the dress Jessica wore when she was crowned Miss Pennsylvania USA. The unveiling will take place at Bluestone Art Gallery in Philadelphia. Visit Shelly Hamill's website to view her entire portfolio.

On Saturday, April 27, Jessica will participate in the HeARTs for Autism's Family Program. Jessica fully dedicates herself to raising autism awareness because her older brother Jamey is autistic. Jessica is an active volunteer in organizations such as the Special Olympics and the Autism Society, and is also an Applied Behavioral Analyst therapist for children with autism.
On Friday, May 9, Jessica will host a going away party at Valanni from 7-9 p.m. Many of her friends, family members and sponsors will be present to wish her luck before she leaves for Las Vegas to compete for the Miss USA title on Sunday, June 16.
Agency Update:
Jenna Communications is proud to announce its re-certification in business from the Women's Business Enterprise National Council (WBENC). This certification states that the firm is "woman-owned, operated and controlled". The Women's Business Enterprise National Council (WBENC) is the largest third-party nonprofit certifier for businesses that are owned and operated by women in the United States. For additional information about the WBENC, visit its website.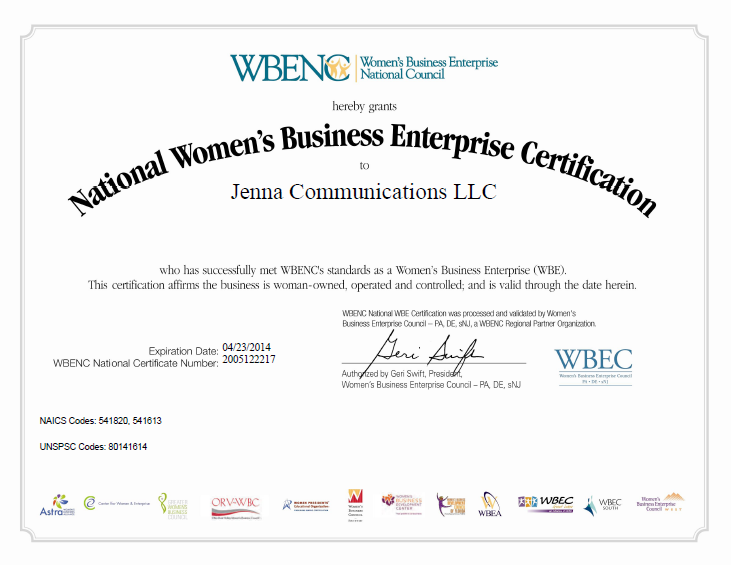 Partner Spotlight:
For the past three years, Jenna Communications has shared office space with Copy Secure, one of Philadelphia's leading providers of data and document services. Copy Secure prides itself on forging strong personal relationships with all client partners, and is proud to have worked with some of the region's top law firms and businesses for more than 10 years. Services include Scanning/Copying, Blowbacks/Printing, Digital Color Printing, Color Oversize/Trial Boards, Email Processing, Online Document Review and much more. Please visit www.copysecure.com to see the full range of services offered.