Read below for can't miss events and news!
JULY 2011
Help us get to 1,000 likes on Facebook and 1,000 follows on Twitter! We will reward the 1,000th person from each site with a free, 30-minute PR consultation. Thanks for helping us grow!
Upcoming Events:
The Second Annual High Heel Race in Avalon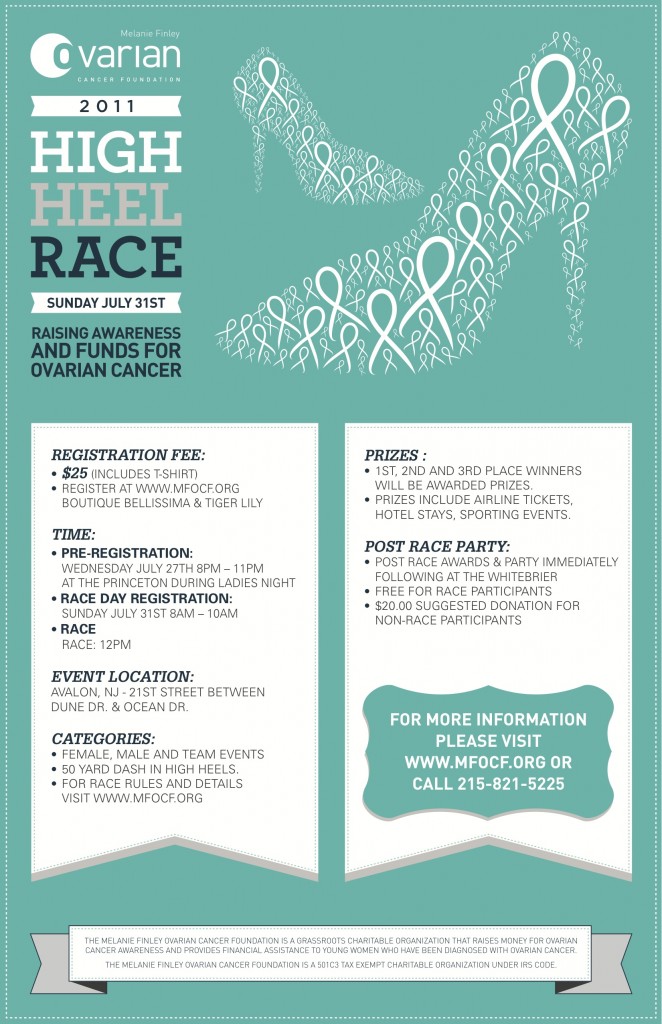 Last year, more than 400 attendees dedicated their time to the 2010 High Heel Race in Avalon, benefiting the Melanie Finley Ovarian Cancer Foundation. This year, Jenna Communications is proud to partner with MFOCF to support the event, a short 50-yard dash ran in heels. The races start this Sunday on July 31st at 12:00pm on 21st Street in Avalon. The cost is only $25 to participate, and there will be great prizes for the winners. Melanie started MFOCF in 2008 to help raise money for ovarian cancer education and direct financial assistance for young women who have been diagnosed with ovarian cancer. For more information, please check out theMFOCF Web site.
As a precursor to the event, the Melanie Finley Ovarian Cancer Foundation teamed up with Jenna Communications for "Show Off Your Heels" at Table 31 on July 7 and raised $1,000 for the foundation. Attendees were able to pre-register for the High Heel Race and learn more about the foundation's initiative. The event was featured on CBS3, click here to watch the clip.
Event Recap:
Shopping for a Sweetie
With the help of the Oxford Valley Mall, Philly2Philly.com and 93.3 WMMR, we raised more than $1,000 for the Lower Bucks County chapter of the American Red Cross. Funds will go toward the National Relief and Japan Earthquake & Pacific Tsunami Funds. Attendees got energetic with the help of Fox29's Jennaphr Frederick as they bid on dates, sporting event tickets and signed memorabilia. Macy's gave the highest bidders free gift cards to go shopping with their sweetie. Hypnotist and author, Bryan Toder of Plymouth Hypnosis Center in Lafayette Hill, entertained the crowd with ways to relieve dating stress. The Philadelphia Soul's dance team, the Soulmates, also performed at the event. Thanks to everyone to made it out for a fun event benefiting charity!
Interested in learning more about hypnosis and how it can help you lead a healthier lifestyle? Check out Bryan Toder's awesome book Get Thin-Be Happy! on Amazon or check out his Facebook page here.
Current Client Update:
MultiFunding, LLC
Ami Kassar, CEO of MultiFunding appeared on the 10! Show to speak with host Bill Henley about how to start your own business in a down economy. Ami suggested that entrepreneurs get creative and use money-saving websites like 99designs, Legalzoom, Onebox and more to help create your company without spending thousands of dollars. For the full interview and cash cutting tips, watch the clip from the 10! Show here.
Follow us on Twitter: @JennaComm, @JennyBentley, @KLSpilman
Check out Jenna Communications' PR Tip of the Week: Social Media Directories at Your Finger Tips