Read below for can't miss events and news!
March 2012
Help us get to 1,000 likes on Facebook and 1,000 followers on Twitter! We will reward the 1,000th person from each site with a free, 30-minute PR consultation.
Thanks for helping us grow!
Upcoming Events
Max Talbot Signing: Philadelphia Flyers right-winger Max Talbot will be appearing at The Sports Cave, Tuesday March 27, 2012 from 5:00 p.m. to 6:30 p.m SHARP. We are expecting a large turnout for this do-not-miss event. Come out to celebrate Talbot's career high of 18 goals this season by getting a signature! The signing will be located at The Sports Cave, inside the Shops at Liberty Place, at 1625 Chestnut Street in Philadelphia, PA 19103. Get your tickets now to see Max Talbot!
Delaware Valley Stroke Council: With the help of Jenna Communications, The Delaware Valley Stroke Council (DVSC) is planning their annual Strides for Stroke 5K on Sunday June 10. The 18th Annual Dr. Howard Mazer Memorial Strides for Stroke event raises money for stroke survivors and caregivers as well as region-wide stroke prevention educational events and screenings. This scenic run/walk takes place along the Martin Luther King Highway in Philadelphia against the beautiful backdrop of the Philadelphia Art Museum. Participants enjoy food and entertainment with old friends and new faces while fighting against the threat of stroke. Sign up for $25 before June 9th and $30 on race day or join our volunteer committee!
Easter Bunny at Simon Malls: The Easter Bunny is in town at Lehigh Valley Mall, Oxford Valley Mall, Montgomery Mall and Quaker Bridge Mall. The Easter Bunny arrived on March 17 and will be at the malls through April 7 to spread Easter magic and take photos. The malls also celebrated the release of the animated feature HOP on Friday, March 23.
Caring Bunny: The Caring Bunny will be at Lehigh Valley Mall and Oxford Valley Mall Sunday April 1 from 9:00 AM – 11:00 AM. Children with special needs and their families are invited to a special private photo session and other activities in an environment designed to support the sensory, physical and developmental needs of children in attendance. Please RSVP at www.abilitypath.org by March 29.
NAWBO Greater Philadelphia Leadership Conference: Get business savvy on April 12 at NAWBO's biennial Leadership Conference where leaders in business come together to share their secrets to success. This year features keynote speakers Linda Descano, CFA (Chief Administrative Officer, Marketing and Global Affairs & President, Women & Co. at Citi) and Judith M. von Seldeneck (Founder, Chairman and CEO of Diversified Search). Attendees will also have the opportunity to learn from leaders in marketing, sales and branding, and network with powerful women in business. Register now to reserve your place at this fantastic event.
Stress Awareness Month: April is Stress Awareness Month! Bryan Toder, certified clinical hypnotist and owner of the Plymouth Hypnosis Center, will be actively participating in National Stress Awareness Month by helping clients change their approach towards stress with hypnotherapy. Jenna Communications also congratulates The Plymouth Hypnosis Center on its s10 year anniversary, which they will celebrate on April 19 at the Talamore Country Club. Further details will be announced.
WMGK Classic Rock Art Show & Sale: The 12th Annual WMGK Classic Rock Art Show and Sale will be on display at Montgomery Mall from Friday March 23 through Sunday April 1. The collection includes pieces by Paul McCartney, John Lennon, Bob Dylan, Jimi Hendrix, and many more rock icons. A portion of the proceeds will benefit a charity to be announced soon. Visit the show Monday-Saturday 10:00 AM – 9:00 PM and Sunday 11:00 AM- 6:00 PM.
Event Re-Cap
Lou Williams appeared on March 8, 2012 at The Sports Cave in The Shops at Liberty Place in Center City. The turnout was favorable and Lou was happy to pose for photos with some of his adoring fans. The Philadelphia Sixers Star even had a moment to stop for a photo with Jennifer and the Jenna Comm Team!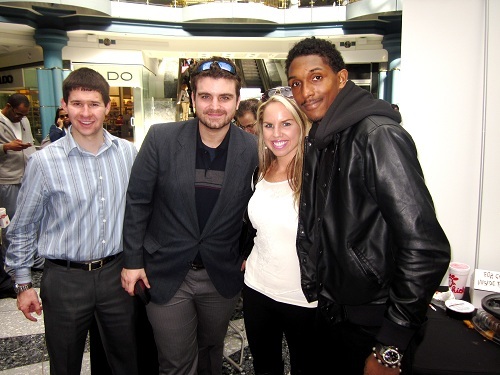 The Oxford Valley Mall Zumbathon, held on March 10 raised money to benefit the Bucks County Young Women's Christian Association (YWCA). The YWCA is a national organization dedicated to eliminating racism and empowering women, and supports under-served women and their families. Zumba is known for being an intense calorie burning workout that anyone can do and have a fun doing it. This exciting Latin-inspired aerobic program involves a combination of dance and fitness moves. This year's event had a fantastic turnout. Over 120 participants danced together to raise over 200 pounds in food and supplies as well as $600 to fund YWCA educational enrichment and social service programs in the Bucks County community.
American Red Cross Month was inside Lehigh Valley Mall on March 10 for an informative session aimed at educating mall patrons during the American Red Cross Blood Drive. After getting educated in the free, Citizen CPR training, participants donated blood and learned how to properly administer CPR.

New Additions
Delaware Valley Stroke Council:
Jenna Communications is proud to announce the Delaware Valley Stroke Council (DVSC) as a new client. The DVSC is a non-profit organization dedicated to reducing the impact and incidence of stroke in the Greater Delaware Valley and Southern New Jersey. The work of Delaware Valley Stroke Council is to improve services for and treatment of stroke survivors and their families. DVSC, a United Way Agency, fulfills its mission by promoting optimal stroke care through advocacy, education, awareness, diagnosis and treatment. Please visit http://www.firstgiving.com/DVSC/stridesforstroke2012 for more information.
Current Client Update
Propper Hockey:
Jennifer brings energy and an interactive element to WMCN44's Flyers- focused sports show "Propper Hockey" as a contributing reporter along with sportscaster Lou Tilley and former Flyer Brian Propp. The hour-long show is taped LIVE at Adelphia Restaurant in Deptford, NJ every Tuesday night at 6:00 PM and airs on WMCN44 on Wednesday nights at 9:00pm throughout the season. The show features guests like Larry Goodenough, Todd Fedoruk and Dave Plank (Philadelphia Soul head coach). Listen to the Propper Hockey show livestream.
Todd Fedoruk, Brian Propp, Lou Tilley, and Jen Sherlock
Jen with Todd Fedoruk
Quaker Bridge Mall:
Exciting changes are coming to Quaker Bridge Mall. The mall is currently undergoing a major redevelopment. The plan includes a decorative renovation along with a completely revamped tenant mix that will significantly upgrade merchandise selection in the categories of apparel, accessories, and home furnishings. A 9,100 sq. ft. Cheesecake Factory will be added in Fall of 2012, the restaurant concludes that it will employ 250-300 full time employees. Rebranding efforts throughout the mall to continue through 2012 and will minimize inconvenience to their customers. Read more about the exciting renovations coming to Quaker Bridge Mall in the Princeton Patch.

Lehigh Valley Mall:

Lehigh Valley Mall hosted Pet Photo Night with the Easter Bunny on Sunday, March 25. Proud owners brough their furry companions to Lehigh Valley Mall for a fun holiday photo.
Check out Jenna Communications' PR Tip of the Week
Follow us on Twitter: @JennaComm, @JennyBentley, @MYoung_PR, @SaraIShuman

"Like" us on Facebook